The baseball and softball games scheduled for home tomorrow are now going to be played at Illinois Valley High School due to a shortage of umpires. Games are still at 4:30pm. Go Bobcats!

It is opening game day for three of our spring sports! Track is at Reedsport for the ice breaker meet, Softball is at Riddle, and Baseball is home @ 4:00pm vs Riddle. It is a beautiful day for a baseball game, come out and get some sunshine and enjoy some baseball! Go Bobcats!

Today's baseball games at North Douglas have been cancelled. Go Bobcats!
Wanted to share there are two organizations currently selling Bobcat spirit wear as fundraisers for their programs. You'll want to hurry as their shops close in two days. You can find more information at the links below: Myrtle Point Softball Team -
https://fancloth.shop/EHXJZ
Myrtle Crest PTK (Parents, Teachers, Kids) -
https://bit.ly/3JddK6e
Don't forget to move your clocks forward one hour.
The candidate for Myrtle Point School District superintendent, Louis, Dix, will be ready to answer your questions at the Meet and Greet beginning at 5:30 p.m. tonight. The event will be held in the gym at Myrtle Point Jr/Sr High. The moderated question-and-answer session will last for 35 minutes. Audience members will submit questions to the moderator and also have a chance to offer their opinions on comment cards.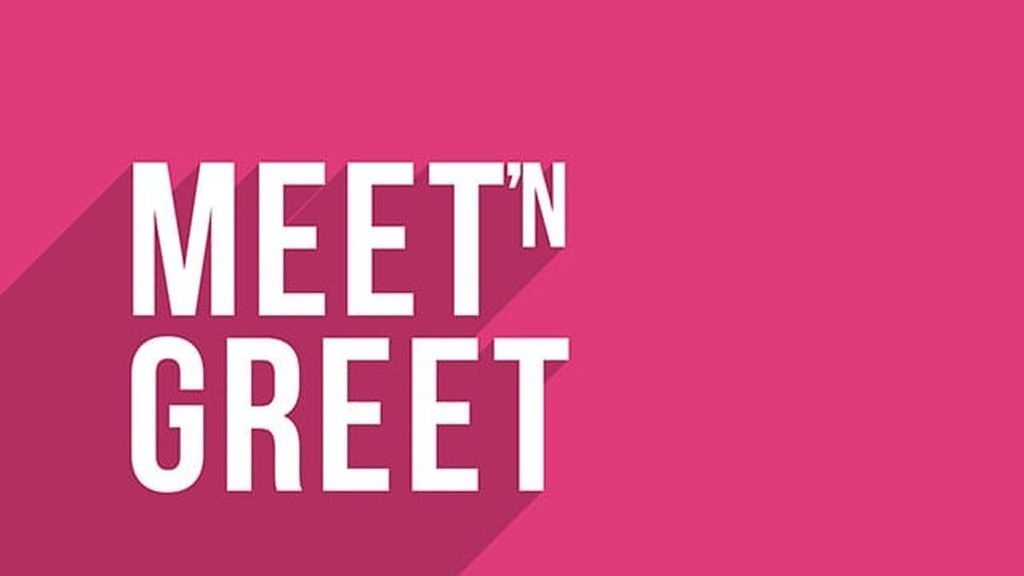 This week is #classifiedstaffappreciationweek Thank you to all of the MPSD Support Staff for all you do!!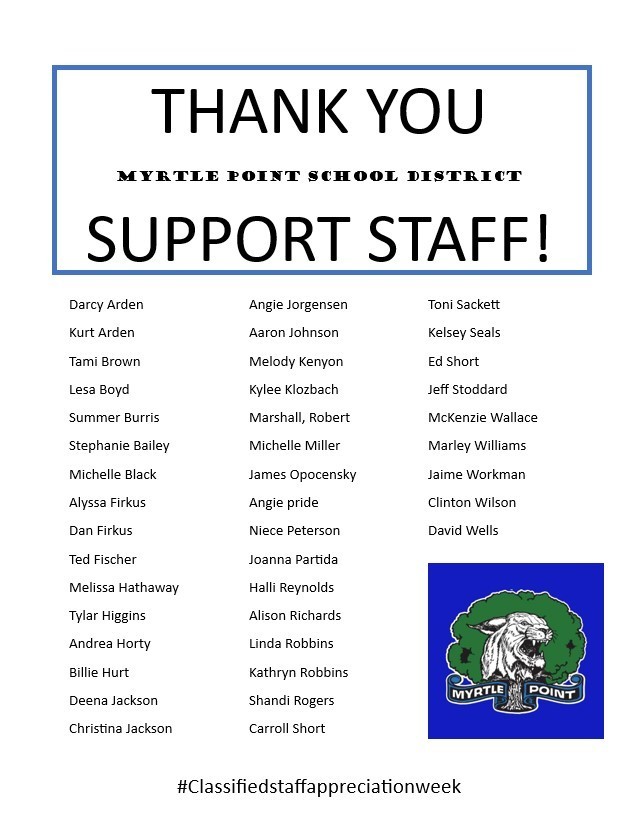 We will be having a parade down Spruce Street tomorrow at 1:30pm for Logan Clayburn our 2023 wrestling state champion in the 1A/2A 220lb division! Please come out and line the street to acknowledge and support this awesome accomplishment!
Due to the freezing temperatures expected in the morning, Myrtle Point School District will be on a 2-hour delay for March 1st. Zero period at the high school will be canceled.

Due to unsafe road conditions, Myrtle Point School District is on a 2 hour delay for February 28th. All bus routes will run 2 hours later. If your child has zero period at the high school, it is canceled for today. Again, Myrtle Point School District is on a two hour delay. Thank you and travel safely.

7th/8th grade basketball is wrapping up this week. We have games tonight in Reedsport at 4/5:15pm and tomorrow at Marshfield at 4:00/5:15pm. Go Bobcats!

Myrtle Point chess players competed this weekend at the Oregon High School Chess Team State Championships and placed third in the 4A, 3A, 2A, 1A Junior Varsity Division. They had to play one team member short due to illness. Congratulations John Fritz, Christian Williams, Xavier Simons with the help of Winter Lakes student Gabe Dunn.

LOGAN CLAYBURN IS A STATE CHAMPION! CONGRATULATIONS TO YOU AND YOUR DAD, COACH CLAYBURN!

State wrestling is a go for today! Starts at 9:00am. Good luck Logan Clayburn and Jonathan Padgett! Go Bobcats!

Due to snow, freezing temperatures, and a shortage on staffing, the Myrtle Point School District will be closed Friday, February 24th. Again, Myrtle Point School district will closed tomorrow. Please have a safe and wonderful weekend.

Your MP Boys Basketball team is still on their state basketball journey! Watch them play Adrian on NFHS Saturday, February 25th at 4:30 PST. Go Bobcats!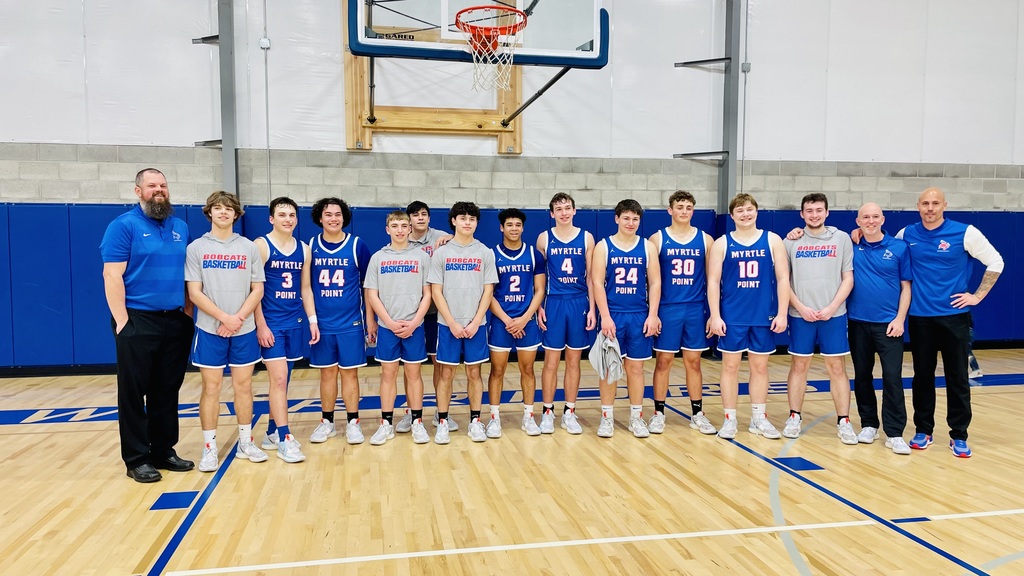 Myrtle Point Schools closed today due to winter weather.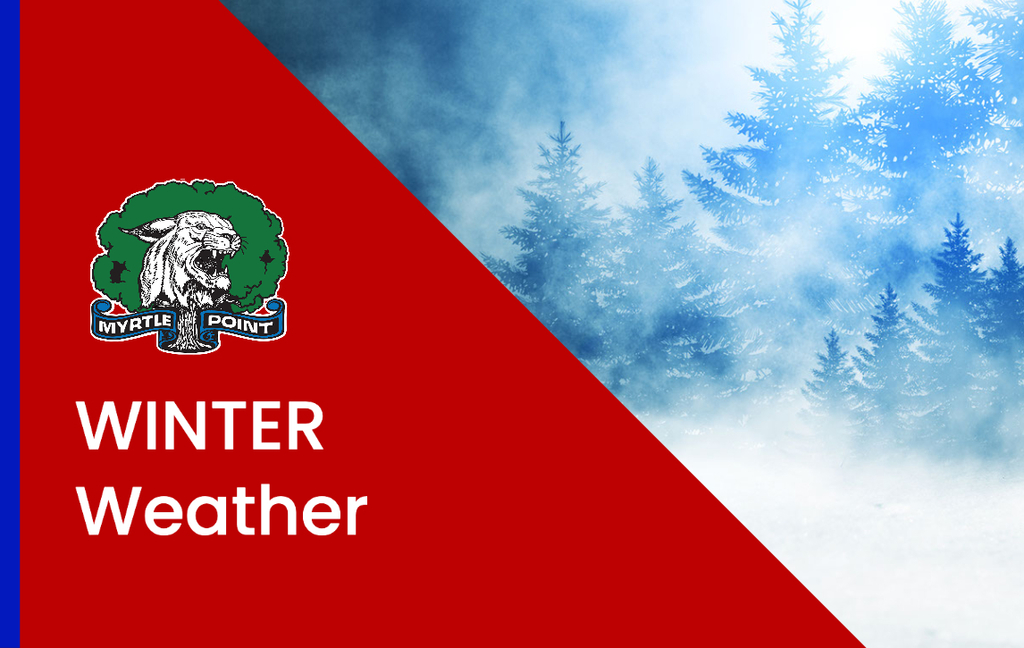 For those traveling to Portland tomorrow for state wrestling it will be on a two hour late start schedule. Wrestling will now start at 11:00am. Go Bobcats!
School will be released early today, February 22nd, due to snow. Myrtle Crest buses will pick up at 12:30 and then go to the High School for a 12:45 release time. AM preschool students will ride home on the 12:30 busses from Myrtle Crest. School will be canceled all day, Thursday, February 23rd.

State play-off update! The girls will be playing Trinity Lutheran tomorrow at 4:00pm! This is in Bend! Would be great to see as much blue in the stands as we can get! Go Bobcats!